Coach's Corner
COVID-19 documents can be found linked below:
All Leagues are required to follow the Department's Return to Play Policy, as well all state guidelines and restrictions. Please become familiar with the following:
1. List of NJ Executive Orders 
2. New Jersey Department of Health Guidance For Sports Activities 
3. CDC Considerations for Youth Sports and Playing Sports
4.  All participants must sign the Borough Hold Harmless Agreement
5. NJ COVID-19 Information Hub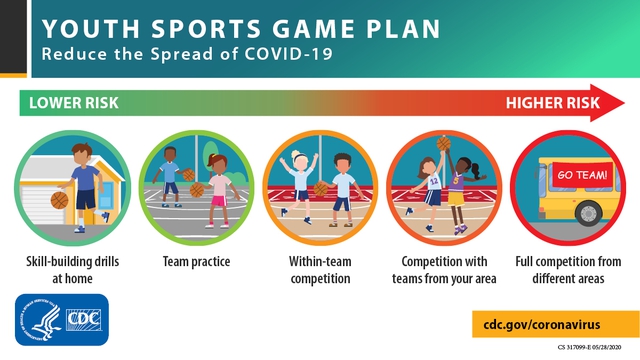 RESOURCES
Department Documents:
Dept. Covid19 Daily Check-in Log
Dept. Presumptive COVID-19 REPORT FORM
NJ Department of Health Documents:
Timeframe for Self-Isolation/Quarantine Based on Testing Result
CDC Documents:
CDC Letter Template for Sport Leagues to Parents
Flyers/Posters:
Stop The Spread of Germs Poster
Steps When Waiting for your Test Results
What to expect with Contact Tracing
RIVER EDGE CENTRAL ATHLETIC COUNCIL
Central Athletic Council Code of Conduct.pdf
CODE OF CONDUCT
PREAMBLE-The essential elements of character building and ethics in sports are embodied in the concept of sportsmanship and six core principles: trustworthiness, respect, responsibility, fairness, caring and good citizenship.
I will encourage my child to participate in sports but I will not force my child to do so.
I will remember that children participate to have fun and that the game is for youth, not adults.
I will inform the coach of any physical disability or ailment that may affect the safety of my child or the safety of others.
I will learn the rules of the game and the policies of the league.
I (and my guests) will be a positive role model for my child and encourage sportsmanship by showing respect and courtesy, and by demonstrating positive support for all players, coaches, officials and spectators at every game, practice or other sporting event.
I (and my guests) will not engage in any kind of unsportsmanlike conduct with any official, coach, player, or parent such as booing and taunting; refusing to shake hands; or using profane language or gestures.
I will note encourage any behaviors or practices that would endanger the health and well being of the athletes.
I will teach my child to play by the rules and to resolve conflicts without resorting to hostility or violence.
I will demand that my child treat other players, coaches, officials and spectators with respect regardless of race, creed, sex or ability.
I will teach my child that doing one's best is more important than winning, so that my child will never feel defeated by the outcome of a game or his/her performance.
I will praise my child for competing fairly and trying hard, and make my child feel like a winner every time.
I will never ridicule or yell at my child or other participants for making a mistake or losing a competition.
I will emphasize skill development and practices and how they benefit my child over winning.  I will also de-emphasize games and competition in the lower age groups.
I will promote the emotional and physical well being of the athletes ahead of any personal desire I may have for my child to win.
I will respect the officials and their authority during games and will never question, discuss, or confront coaches at the game field and will take time to speak with coaches at an agreed upon time and place.
I will demand a sports environment for my child that is free from drugs, tobacco, and alcohol and I will refrain from their use at all sports events.
I will refrain from coaching my child or other players during games and practices unless I am one of the official coaches of the team.
I also agree that if I fail to abide by the aforementioned rules and guidelines, I will be subject to disciplinary action.
Accident reports must be submitted to the Recreation Director within 24 hours.
Report by phone any serious injuries requiring medical attention. - Please call 551-502-8056 – leave full description and name/number of contact person or email information  cbaldanza@riveredgenj.org
Please note >>> all claims must be filed within ninety days of an accident
Lightning Detection System
The Borough of River Edge has installed a Lightning Detection System for the protection of our residents and guests.
Lightning is a severe hazard that must be viewed seriously. Everyone should immediately seek shelter any time they believe lightning threatens them, even if a signal has not been sounded.
WHEN LIGHTNING IS DETECTED >>>
An 18 second blast of the horn will signal suspension of all activities.
A strobe light will begin flashing and remain flashing until safe conditions return.
YOU ARE MANDATED TO IMMEDIATELY SEEK AN APPROPRIATE SHELTER.
You may resume activities only after the horn is sounded and the strobe light stops flashing.
IF YOU REMAIN OUTDOOORS AFTER THE WARNING IS ISSUED, YOU DO SO AT YOUR OWN RISK!!!
LIGHTNING SAFETY TIPS
| | |
| --- | --- |
| SEEK | AVOID |
| Automobiles / Trucks | Open Areas |
| Large Buildings | Water |
| Tunnels with No standing Water | Tall Trees Metal Fences |
| Overhead Power wires | |
| Light Towers | |
| High Ground areas | |
| Mobile Phones Radios / PA Systems | |
| Small, unprotected Shelters Umbrellas | |
| | |
 Current locations of Siren/Strobe *
Memorial Park – Webb Avenue
Kenneth B. George Field
*The system is active from 6:00am to 11:00pm
To be added to the notification system email cbaldanza@riveredgenj.org with your cell phone number and your provider.Timeframe for Self-Isolation/Quarantine Based on Testing Result