Brookside Park
Located at the end of Greenwway Terrace, is available to all residents and includes a playground area for toddlers, small tables and a basketball court for low-level basketball and a walking path from Monroe to Concord Avenue.
Cherry Blossom Park
Located on Bogert Rd next to Cherry Hill Elementary School. Offering a variety of plants and flowers, Cherry Blossom Park is the perfect park to sit and enjoy nature. 
Kenneth B. George Park
Located at the end of Riverside Way (next to the Swim Club), includes a lighted Softball Field, Baseball Field, bathrooms and concession stand for the use of River Edge Recreation sponsored adult and youth athletic leagues.
Veteran's Memorial Park
Located off Continental Avenue, is available for all residents and includes tennis courts, picnic area, pavilion, bathrooms, garden area with benches and horse shoe pits, hand ball court, playground area for toddlers, playground area for 5-12 year olds, lighted basketball courts, hockey rink, Little League baseball fields with concession stand with a half mile walking path. 
Picnic area-pavilion may be reserved by residents only - Park Use Fees:  $50 up to 100 people  $100 over 100 people   Resident must contact the Recreation Director to reserve the date. Once application form and payment is received a permit for use is issued.
 
---
Park Reservations
Residents of River Edge can apply for the use of Memorial Park Pavilion and Picnic area with CommunityPass at https://register.capturepoint.com/RiverEdgeBorough. Applications to reserve Memorial Park will require a fee of $50.00 for groups from 0-100 and $100.00 for groups over 100 in attendance. These fees will be used to maintain Memorial Park. This fee applies to all residents and organizations with the exception of Borough sponsored events. 
Certification of Liability Insurance naming the Borough of River Edge as additional insured is required for all organizations prior to use of any River Edge Park.  Permit will be issued only after the receipt of the certificate of liability insurance.
If residents are using any outside vendors for their event.  Vendors must  completed the Borough's Hold Harmless and provide a Certificate of Liability Insurance naming the Borough of River Edge as additional insured with limits carried of at least $1,000,000.00 per occurrence. General Liability, Commercial Automobile and Worker Compensation if applicable. Certificate holder shall be written to: Borough of River Edge 705 Kinderkamack Road River Edge, NJ 07661
PARK RULES
Alcohol is not allowed in River Edge Parks
No unauthorized vehicles in River Edge Parks
Memorial Park closes one hour after dusk
Any garbage that cannot be placed in the park trash receptacles must be removed from Memorial Park
Cooking is allowed only on the permanently mounted grills in picnic area
Use of electricity must be authorized by the Recreation Commission
Do not use the park trees as sign posts (no nails or any other sharp object is allowed to be used on our park trees)
Please be advised that park bathrooms will be closed during the winter months. Opening and closing of bathrooms is all dependent on the scheduling of Suez and weather permitting, although estimated dates are April 1st opening and November 1st closing.
 
---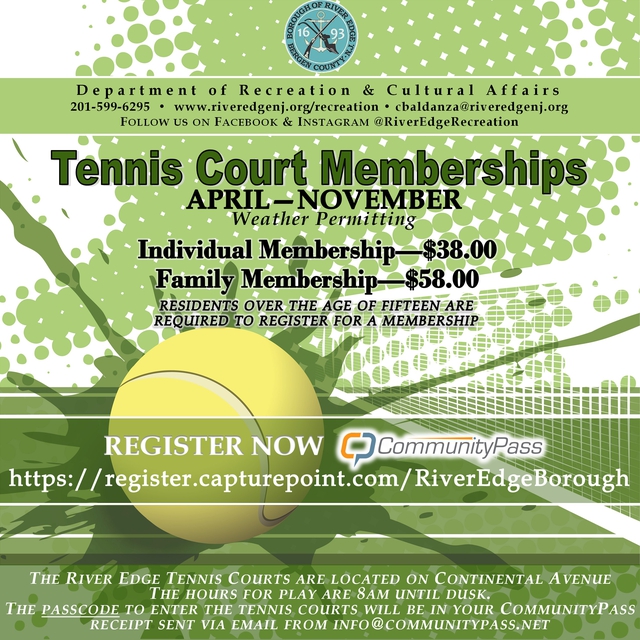 Tennis Courts
Tennis Courts are located behind the Public Library off Continental Avenue. Opened to residents only from April through November (weather permitting) from 8am to dusk.
Tennis Membership is required for the use of the courts for residents 15 years of age and older  
All tennis memberships must be registered online with CommunityPass at https://register.capturepoint.com/RiverEdgeBorough
Memberships
$38 - Individual  
$58 - Family
After your membership is purchased, you will receive the passcode for the tennis courts in your email receipt.  Please remember that this passcode is for members only and should not be shared.
TENNIS COURT RULES AND REGULATIONS

 All players must abide by all current guidelines set forth by the Centers of Disease Control and Prevention and the New Jersey Department of Health.  

There is no congregating in the Tennis Courts and must only be used for the purpose of Tennis
All Participants must follow in accordance with all Executive Orders signed into law by The State of New Jersey.
ALL PLAYERS MUST BE RIVER EDGE RESIDENTS. GUESTS MUST ACCOMPANY THE RESIDENT. (If bringing any guests, please be courteous to other members who may be waiting for a court.) For more information call the Recreation Office (201) 599-6295.A pass code number will be given to registered members for access to the courts.  This pass code will be changed when necessary. Members will be notified of passcode changes via email.  

Members are not permitted to give out the passcode.

Hours of play:

 

8:00am until Dusk 

 

- Playing tennis prior to 8:00am may result in loss of membership.

 

Proper attire must be worn at all times. Shirts are required attire.
Playing time is limited to one hour.
Players cannot succeed themselves on another court until those waiting have had an opportunity to play.
Ball machines are not allowed on weekends, holidays or evenings (5:00pm to dusk) Ball machines when allowed, are to be used only on the west end court located in the back courts.
Authorized Programs: All Pro Tennis, Thursdays 3:30pm-6:30pm, 3 courts
No chairs or coolers allowed on the courts.
No children allowed on courts unless playing tennis with an adult.
Please remove all garbage from courts.




---




Tennis Lessons

Tennis Instructional Clinics are offered Thursdays in the Fall (5 week sessions) for grades 1st through 12th grade at our Tennis Courts,  located behind the Public Library off Continental Avenue

Fee $100

Register on CommunityPass at https://register.capturepoint.com/RiverEdgeBorough

Questions Contact Barry Ruback

email: barrys10s@gmail.com

phone: (201 456 2124)