RIVER EDGE DAY IS POSTPONED UNTIL 
SUNDAY, OCTOBER 9, 2022
SAME TIMES - 1:00PM TO 4:00PM
SAME LOCATION - VETERANS MEMORIAL PARK
SAME GREAT FUN!
FREE RAFFLE PRIZES, GIVEAWAYS, ACTIVITIES, 
INFORMATION TABLES, DEMONSTRATIONS, 
GOODS FOR SALE, & FOOD/REFRESHMENTS
CAN'T WAIT TO SEE YOU THERE!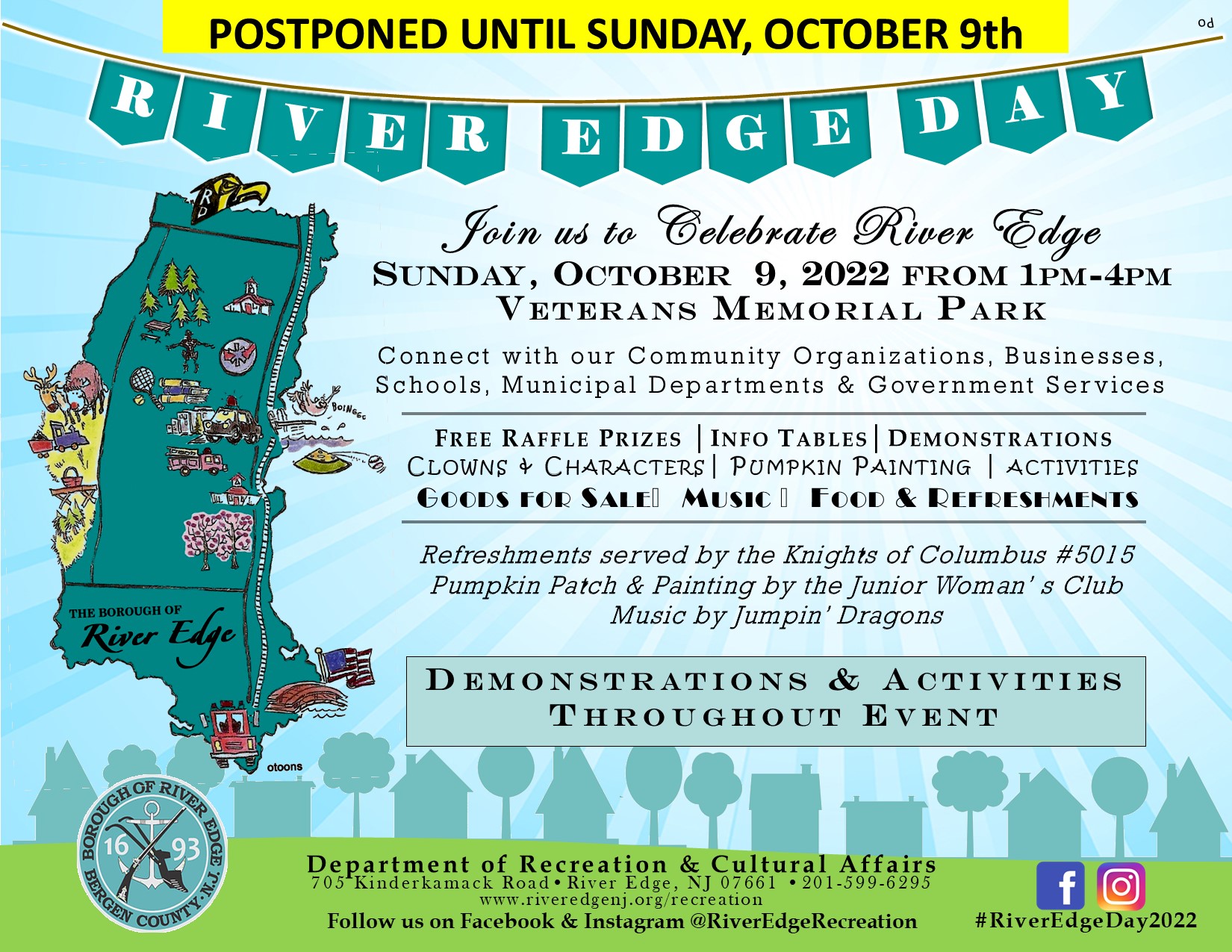 PARTICIPANT INFO
Calling all River Edge Businesses, Organizations and Borough Departments
River Edge Day is postponed until 
1:00pm-4:00pm at Veterans Memorial Park
Please join us at our annual River Edge Day event to provide information to our residents & neighbors about who you are & what you do for our community
DEMONSTRATIONS │ INFORMATION │ HANDOUTS │ DISCOUNTS
♦ ♦ ♦ Provide a FREE RAFFLE, ACTIVITY, or SERVICE for our residents ♦ ♦ ♦
Residents (over age 18) will sign up for your raffle item at your table (raffle on display). 
Resident must be present to win. 
This will be a silent raffle this year, so please reach out to your winner at 3:30pm. 
CLICK HERE TO REGISTER FOR A BOOTH
Spaces of 12x12 in Memorial Park will be assigned
 12pm Setup & 4pm Breakdown 
Tables, chairs, tents, etc. are the 
responsibility of the participant
Rain Date is Sunday, October 9th, 1pm-4pm
Event instructions will be sent via email prior to the event